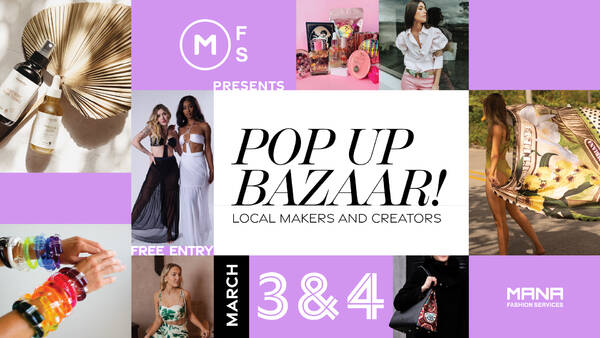 Fri, Mar 3 & Sat, Mar 4
12:00 - 6:00 PM
Mana Fashion Services presents Pop-Up Bazaar, a 2-day shopping and lifestyle experience showcasing ethically sourced, local brands. In addition to shopping for your favorite looks, expect a full day of entertainment, fun, and inspiration for the entire family!
Vendors*
Listed in alphabetical order
American Pop Candle
Ana Carolina Valencia
Anagi Jewels
Angela Bolaños
Arena Swimwear
Astratto Dolci
The Atypicals
Ben & Giules
Bianti Shop
Bnatural Shop
Capsool
Carla Soraya
Casa Icona
Chofa Jewelry
Claudio Civitico
Color Signature
Creo Healing Jewelry
Delight Cakes by Paola
Ege Sagas
EIY
Equilibrium Activewear
Fabricca Design
Fine Frenchie / Valeria Krasavina
FLOREZ
Hoka Homes
House Twenty Two
HYGGE Luxury Jewelry
Krel Wear
Le Lanose
Loret
Maison Roselene
Maly Swimwear
Mann Original
Mapa The Brand
Marion Valero
Mayas Made in Honduras
Miami Fashion Institute
Mita Eyewear
Munai
Nina Verklas
Opaluz Jewelry
Paola Rendon
Pargo
Pequeñas Indulgencias
Perolero
Rei Giraldo
ROSSO
SACRA
Smokke Show
Stuusch
Sustainable Collection
Tam Tam Yogi
Tina Shaniele
TresMonet Skincare
Victoria Leon Swimwear
VitaJo Brands
*As of Feb 27, 2023 | Brands Subject to Change
Activations
Mana Sanctuary by Katerina Evolve
Mar 3 & 4, 12:00 PM - 1:15 PM
Arts and Crafts for Kids by Ft Colour
Mar 3 & 4, 12:00 PM - 6:00 PM
Shoe Donation Box by Sneaker Impact
Mar 3 & 4, 12:00 PM - 6:00 PM
Panel Discussion: Slow Fashion & Degrowth
Mar 3, 3:00 PM - 4:00 PM
Live Band by Cachita Lopez
Mar 4, 1:30 PM - 5:00 PM
Food
Angie's Epicurean
Astratto Dolci
Crunchies Miami Food Truck
Delight Cakes by Paola
Beverages
Acqua Panna
Odyssey Mushroom Elixir
Perrier
Suja Juice
Activities
Morning yoga & meditation
Panel discussion on sustainability in fashion
Live music
Kids entertainment activations
Food and beverages
Gift bags
And more!

Stay connected to Mana Fashion Services: