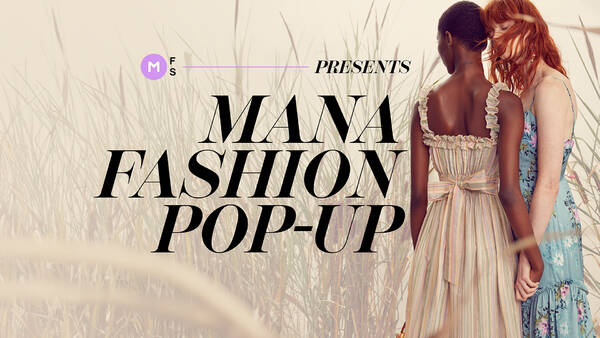 Mana Fashion Services' ethical shopping extravaganza returns this November! Join us as we transform Mana Wynwood into a fashion paradise, featuring over 100 ethically sourced local and international brands. In addition to shopping for your favorite looks, prepare for two days of entertainment, fun, and inspiration for the entire family!
What's in Store for You?
- Shop 'til you drop: Discover unique, handcrafted pieces while supporting sustainable fashion.
- Diverse programming: Witness breathtaking fashion shows and engage in stimulating panel discussions led by industry experts.
- Live entertainment: Immerse yourself in the vibrant atmosphere with live performances, musical acts, and more to be announced soon.
- Fun for the whole family: We invite you to bring your little fashionistas along! Enjoy a variety of activities designed to entertain and educate kids, making it a delightful experience for the entire family.
- Culinary delights: Treat yourself to a delectable selection of food and beverages, specially curated to elevate your shopping experience.
- Discounted On-Site Parking: Enjoy the convenience of reduced-cost on-site parking, making attending the event both hassle-free and budget-friendly.
Brands
Aether Diamonds
AfriKin
Alice.K Clothing
Baido The Label
Be Queeny
BelaSol Clothing
Bien Bien Miami
Blu Ash
Campelle
Chofa Jewelry
City Glow Miami
Claudio Civitico
Conceptual Boutique
Da Bohemian Bazaar
Dress More With Less
Elena Reva
Florez
Formidable
FRENCH KISSED LIFESTYLE
Gipcco Design
Graze & Gobble
GreenCloudApparel
Green Heart
Halma Shoes
Haus Angeluz
Hennys M. Homemade
Hygge Usa LLC
IVA Jewelery
James Mack Fine Jewelry
JOA Diary
Judith Cabrera
Kaptiva Collection
Keeks Corner
Kené Kaya
KRIS MARÁN
L'amour Maternel Skincare
La Nadia Jewels
La Roja by Misha
Lala Custom Lab
LaVic Organics
LilyRose
Lollipetals
LottaCoco Creation's
Lugó Lugó Brothers
Malva Florea
Mare Dolce
Marlina Boutique
Martina Gurgel Jewelry
Melangie Candles
Miami Shoe Museum
Monarchessa
NASHÎ Swimwear
Norba
OCEANxSILK
Omelia
Opaluz Jewelry
Pakada Designs
Pakhtusova
Perry Walker Collective
Pick Happy
Prime of Lime
Rio by Design
Smart Swimsuits
Sormeh
Statnaia
Stavros
Tamtamyogi
Taylor Dorry
The Au'ganics
The Room
Trazzo
TYNA Collection
UA Design Space
Valeria Krasavina
Valery Kovalska
VALSE NYC
Version Originale
Victoria Leon
VintyLux
VIVI Friulane
Vivons
and many more to be announced!
Activations
- Arts & Crafts for Kids by Ft Colour
- Clothing Swap & Donation by Curley's House
- Sneaker Donation Box by Sneaker Impact
- Tarot Card Reading by Anita from The Connectionist
- Vintage Formula 1 Car Exhibit
When & Where
Saturday, November 4 & Sunday, November 5
12:00 PM – 7:00 PM
Mana Wynwood Convention Center
318 NW 23rd St
Miami, FL 33127
Event Details
- All ages welcome: Children under 16 enter for free! No tickets required for entry.
- Dress code: Elevate the chic factor with your fashionable attire.
- Parking: Convenient on-site parking available.
Refund Policy
Ticket holders can request a refund within two weeks of purchase. However, tickets purchased within one week of the event are not eligible for refunds.